Case Study
Helping agencies deliver insight-driven results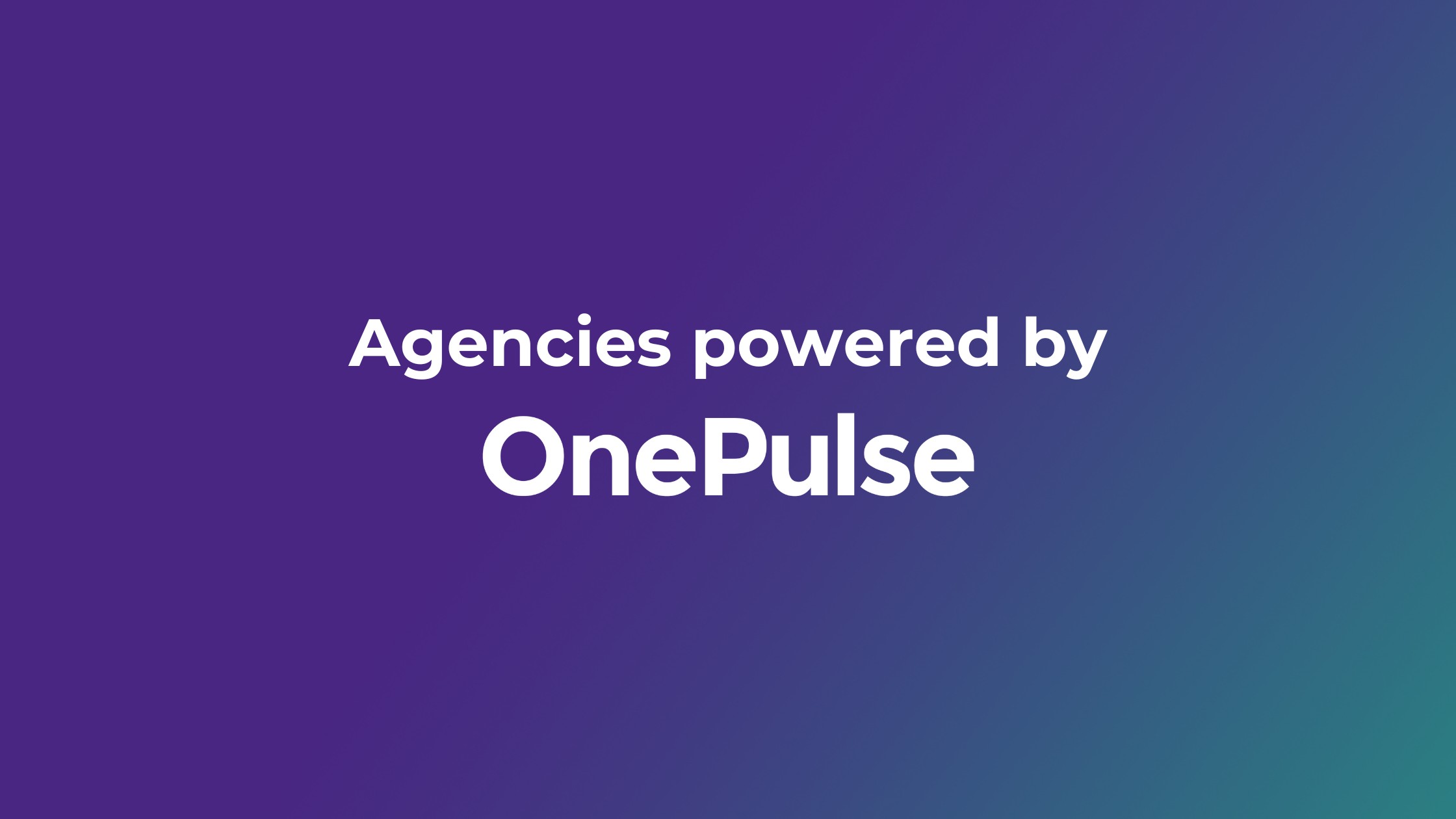 You may not know that agencies make up more than a third of our client base. From creative to media or brand planning to social, all of these agencies have one thing in common: they need a self-service tool that will give them insights, and they need it quick.
That's where we come in: agencies use OnePulse to get consumer insights, asking questions and receiving answers within minutes.
And after a few Pulses, users discover they can do more than just the one or two use cases they intended to achieve. Due to the flexible nature of the platform, our clients find themselves using it to support their clients in various ways, including creative testing, partnership testing, new business, keeping up with trends, and more.
Here are a few ways agencies have used OnePulse:
Trend tracking
One of the world's largest agencies used OnePulse to pique their QR code curiosity. When the scannable sorcery made a surprise comeback during the pandemic, this group used OnePulse to gauge consumers' attitudes and usage towards QR codes on products to see how motivated consumers would be to scan. Their findings helped shape their new scannable brand tech solution, which uses AI to deliver compelling and memorable digital experiences.

Rebranding
In another case, the agency used OnePulse when they worked on rebranding one of the largest rail service providers in Europe—repositioning the transportation to engage a new generation of travellers. They used OnePulse to get insights into consumers' awareness and perceptions of transportation. The 10-month brand overhaul resulted in a shortened name and a new visual identity to represent better the speed, efficiency and care that set the rail service apart from its competitors.

Creative testing
When a world-renowned car brand partnered with the national governing body for one of England's favourite sports, the agency behind the campaign reached out to used OnePulse to conduct creative ad tests among car owners to evaluate the impact of their messaging. In one study, they were able to test a variety of media, including videos, OOH, and display ads, to assess the likability of their creative and get a sense of how the campaign was received. As a result, the team created a consistent campaign across multiple channels.

Partnership testing
A highly-regarded advertising agency known for delivering groundbreaking campaigns that connect with viewers conducted tests to ensure they selected the ideal celebrity to endorse their client's product. So when Mr Motivator popped up as a possibility for one client, the team wanted to gauge his level of memorability and emotional impact on viewers. They discovered that many people still remember and feel sentimental about him.

Similarly, a different client of ours—a podcast hosting and distribution platform—often pitches brand sponsorships to podcast shows. They rely on OnePulse to instil confidence in their clients and evaluate the appropriateness of these ad sponsorships for a show's audience.

New business
Agencies power their research methods with real-time insights, but many also use the platform on the spot to enrich presentations and pitches to clients. With the answers coming in to address top concerns, clients have been presented with raw consumer opinions for that extra transparency and added wow–they–really–do–stay–on–top–factor.