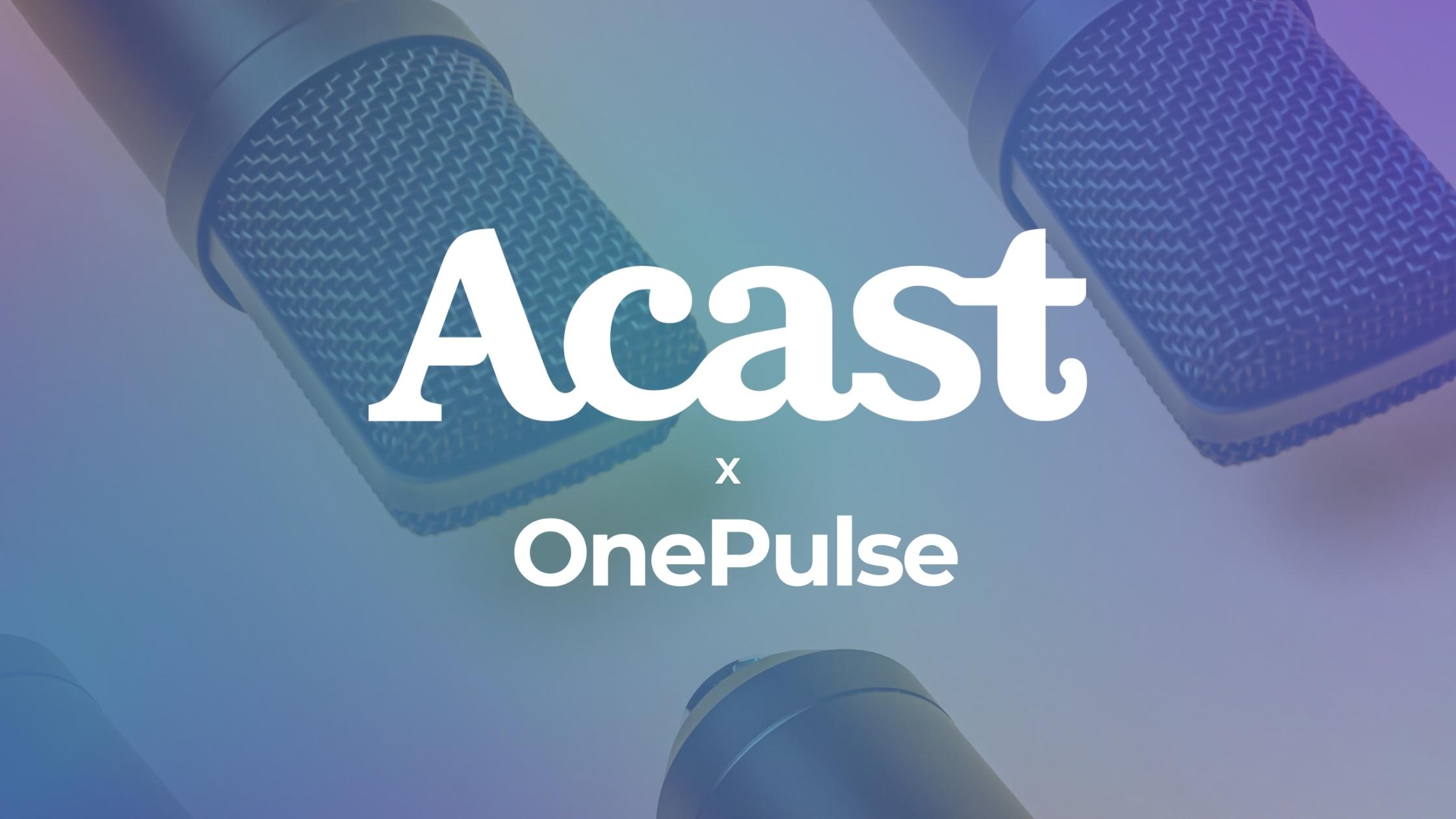 Acast is a home and amplifier for podcasting. They help creators, both big and small, to host, monetize, and grow their shows. While offering something special in podcast advertising solutions for brands and media agencies. As one of the world's largest independent podcast companies, they have been crushing it in the open podcast ecosystem since 2014.
We recently sat down with Tommy Walters, the commercial insights manager at Acast to get a behind-the-scenes glimpse into his team's use of the OnePulse platform: from brand lift studies and genre indexing to long-term trend analysis.
Get the inside scoop below.
---
To begin, could you give us an overview of your role at Acast?
At Acast, I lead the consumer research efforts, which involve helping with pre-sale presentations, winning RFPs, thought leadership, creating go-to-market collateral for sellers, proving the value of different campaigns, and generally being the go-to person for ad hoc data requests throughout the company.
Before Acast, I worked at a company called Team Whistle, which is also a client, or at least was a client of OnePulse…
Still!
Still? Nice!
What was your first impression of OnePulse?
I was originally shown a demo of the platform at my previous workplace, and what piqued my interest most was the speed. Seeing how quickly I could gain insight was the wow factor. OnePulse was really just different from what I had seen before.
You are making us blush!
No, really. I mean it.
And over the last year, I've uncovered different ways to use the platform and came to realise that speed isn't the only impressive element. So I developed a list of different ways that OnePulse can help me enable my colleagues and clients—it's almost a menu of projects they can request. It started out with two or three use cases, and it has quickly grown to about 13. I anticipate by the end of the year, it'll probably be 15, or 16.
Without saying too much, we do have a thing or two lined up, so yes it's possible your list may get longer! 👀 How is Acast using OnePulse today?
We get tons of RFPs, and tons of different requests for data, and OnePulse is just the quickest and easiest way to be able to say to our clients, "This is why you should work with us."
Media Placement
Oftentimes, we use it to prove the value of general podcasting and specific podcast shows to validate media placement for our clients. For instance, someone might say, "I have a women's fashion brand with this kind of audience, and I'm thinking of advertising on these five Acast shows." The OnePulse platform helps us with these decisions. We'll also do the same when gauging which genre of podcasting is more likely to be effective with the brand.
Essentially, if we can say to a fashion brand, "These podcast listeners are 50% more likely to purchase that brand or a similar brand than average," then that's a good use case for why they should be advertising on podcasts to reach those consumers.
Trend Tracking
We've run a few long-term trend analyses using the platform, asking the same questions to different podcast listeners a year apart, and measuring the trends. That's always fun to do!
OnePulse is also super valuable for one-off behavioural asks. If someone comes to me and asks if people look at their phone while listening to podcasts, it's so much easier to just pull 500 podcasters from the OnePulse community and ask them, instead of running a massive qual study, and following people over a month's time.
Creative Testing
We'll specifically use OnePulse's video function to test different podcast ads with different audiences. We've used it a lot for those 30-60 second ads, and also for promotional TikTok videos.
We've run A/B testing on podcast artwork, titles, and social assets. Plus, on numerous occasions, we run Pulses on creative concept feedback for big, branded podcasts, testing a few different ideas with the target audience. We always want to provide creative ideas with data behind them.
OnePulse is so great for these projects, because it's so primed to work with creative folks because you get insight back so quickly.
Can you tell us more about how you use OnePulse with other platforms?
Brand Lift
We'll usually use OnePulse with other marketing data and analytics companies like Nielsen or Kantar for our brand lift studies.
At Acast we use a lot of big data sets from Nielsen, GWI, Kantar, and YouGov to get initial insights, and we'll use OnePulse to plug the holes that aren't included in the syndicated data because of its flexible nature. I'm a big fan of both quick survey research and syndicated data, because it's so much quicker and so much more cost-effective, compared to running giant studies.
We care about the personal why. And earlier, you mentioned that the speed of the platform was the wow factor for you, but we'd like to know what that means for you.
Well, one thing's for sure, it allows me to take on more work.
(Laughing Interjection) Well, we weren't expecting that.
Honestly, the tool just makes my life so much easier. The fact that it's three questions helps me stay focused. I know you can get creative with it, and ask more questions if you need to branch or run multiple Pulses, but having the limit really keeps you focused on the key insights—which is ultimately, what all people want.
Having OnePulse as part of our research methodology has helped us do a pretty good job of giving clients unique and compelling insights plus in a really timely manner.
It is easy to get lost in the data so we're glad we can simplify it for you.
---
This interview was shortened and edited for clarity. Tommy recently sat down with the OnePulse team to share his experiences, provide inspiration and feedback for the product. If you're interested in doing the same, we'd love to hear from you!
You can also check out Tommy's thought leadership piece on LinkedIn about year-over-year research here.