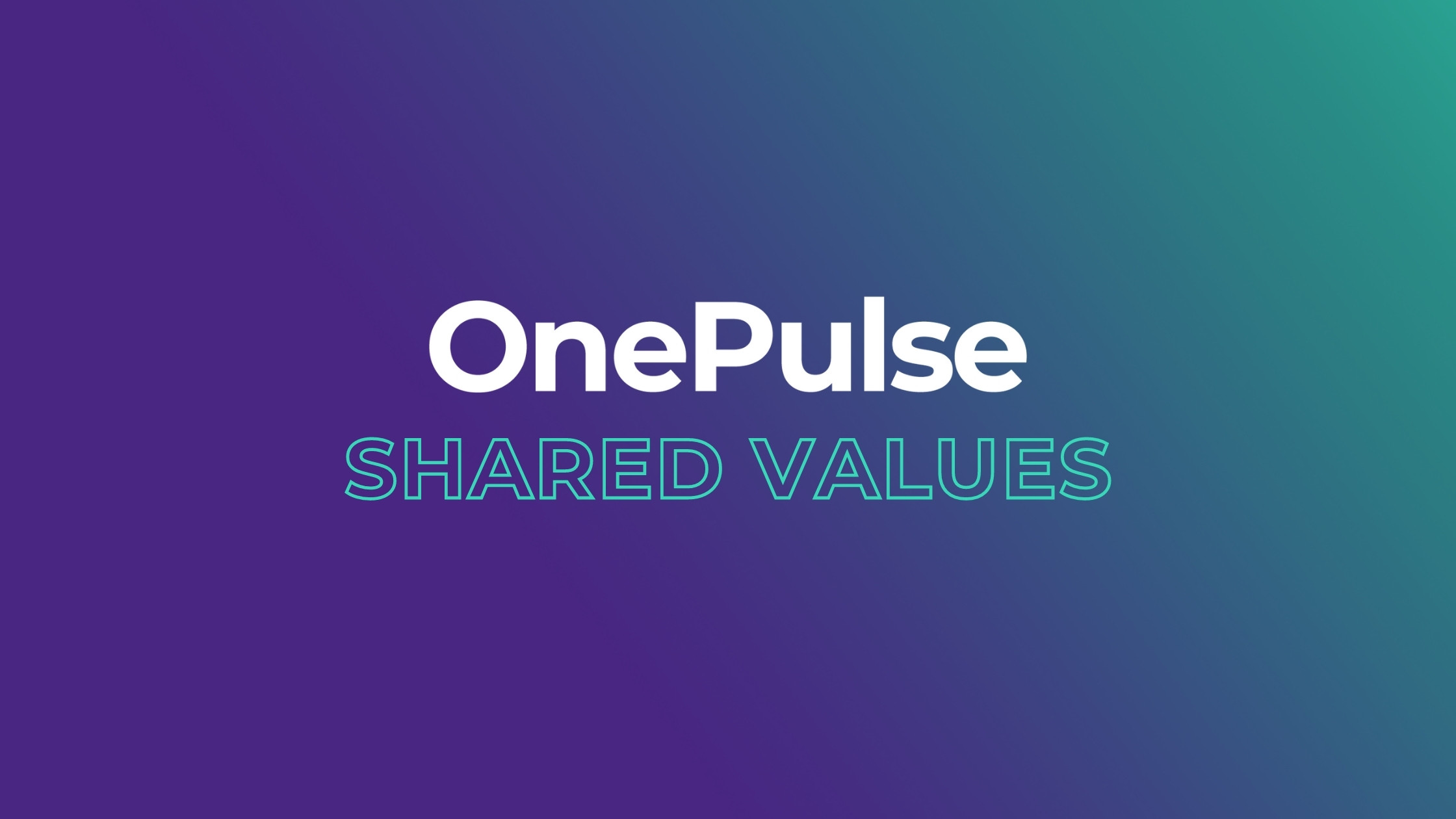 Putting Our Values on Paper
At the beginning of the year, we spent some time redefining OnePulse's core values. We're continuing to learn and evolve, and sometimes it feels like we're moving faster than the speed of insight. We felt that it was important to articulate what matters most, so we would always have a roadmap to guide us through the ups and downs.

Our values needed to go beyond overfamiliar words like trust, resilience, and passion. Instead, these ideals embody who we want to be, influence the choices we make daily and the mindset we need when we're supporting each other, our clients, and our community.
To achieve this, we solicited the unvarnished views of our team.
But First…
We wanted to understand how the general public perceives core business values in their workplaces. So, we used the OnePulse platform and our proprietary community to help us do some digging. What stood out to us was that 7 in 10 employees would like to be involved in shaping their workplace values, with the majority wanting to be very–somewhat involved in the process. We also found that 3 in 10 described their company values as "just words."
That was powerful: we wanted to ensure that our team had a say in shaping our values and therefore building the culture they want.
After Gathering Some Initial Insights…
We put our inceptive values to the test with our team (through the OnePulse platform, of course!). And to get our team's candid opinions, we made use of the open text feature to ask what each word meant to them.

By Pulsing the values to our team, we learnt that the meaning of each phrase varied from person to person. For some, curiosity meant pushing boundaries and taking risks. For others, it meant building something that would allow our clients to get their own "aha" moments.
From this, we rebuilt our core values into a set of virtues that were honestly moulded by the people who make up OnePulse.
A Few Pulses and Workshops Later…
Our company values went from a list of words to values with meaning.

At OnePulse, our mission is to give everyone a voice—whether that's everyday people who want to impact the world around them or our clients who need the confidence to move boldly ahead. Every voice matters. By using that same principle on our own work, we were able to create something resonant.